Email Encryption Service Offers Businesses More Peace of Mind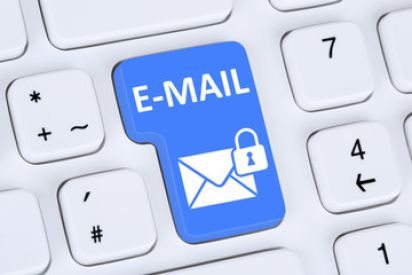 Email encryption services not only help businesses gain competitive advantage by preserving their client list, information about products and service offerings, but also help comply with various governments and regulatory authority's data protection, preservation guidelines. Protecting and preserving data has become of utmost importance in the days of digital age, as the very existence and success of your business depends on data. From contracts, agreements, products specifications, to vital client and customer information your data contains crucial and sensitive information that needs high levels of security from hackers, and accidents.
Business follow strict rules in terms of restricting employees, visitors, clients, customers carrying into or out of the business premises any physical electronic or other forms of storage devices. However, with email becoming an important medium of communication, they carry a greater threat of sending or receiving sensitive information, or intercepting of the information by competitor's hackers, etc., thus exposing your valuable data to great risk.
When you deploy the best encryption services for email, your precious data becomes unreadable to outsiders and only those with the decryption key will have the access to read the emails, thereby protecting the data from failing into the hands on unauthorized people.
With email encryption services, the exchange of emails between employees, with vendors, clients, and customers remain safe. Additionally, these encryption technologies also protects your communications from external intrusions, threats of malware, etc.
Email encryption services are no longer restricted for big businesses, it is mandatory for certain kinds of business in specific industries, while many other businesses have to deploy it to stay competitive and be successful. Here are some of the benefits of subscribing to the best encryption software service.
Protect your private information: Business emails contains business sensitive information that includes contract agreements, clients' information, product specifications etc. Such information is crucial for your business success, it is important that you safeguard this information against possible attacks, leaks, threats. Encryption is a great way to achieve that. When your encrypt emails, you no longer have to worry about the loss of sensitive data your emails contain, when you transmit emails within the organization or send them to the outside world.
Avoids Spam: With best email encryption for your business, you can avoid the hassles of spam entering your emails. Hackers and other intruders flood your inbox with spam, such emails with or without attachments of virus and malware infected files poses great threat and security risk. However, with quality encryption you can always set your emails filtered according to the keywords, heading or even the body of the email and stop any spam emails hitting your inbox.
Increased productivity: With automatic spam filtering controls service keeping spam and junk emails out of the inbox you will save time for your employees. They no longer have to spend time deleting junk, advertising emails to find the important businesses related communication. Encryption does all the mundane work for you, saving your employees valuable time. Now your staff can concentrate more on productive tasks.
Recall Emails: Many times, it may happen that you accidentally hit the send button and send an email to a different person than you intended to, such mistake could proves very costly to your business, especially if the email contains sensitive personal, financial or health related information. Email encryption services offer many value added services such as email recall, a great feature that helps you recall emails sent accidentally to a wrong person, thus saving your company embarrassment and unnecessary expenditure, loss of business reputation, etc.
Regulatory compliance: As email contains sensitive information of customers, clients, and businesses, protecting the data has become the responsibility of governments and regulatory authorities. Many regulatory authorities have laid down rules, regulations, standards and procedures for protecting and preserving the data.  For example, HIPAA – health insurance portability and accountability act – laid down specific rules and regulations for safeguarding data of businesses that operate in health insurance industry. Some other regulatory authorities include GLBA, SOX, etc., have similar requirements for businesses operating in their specific industries. Email encryption services help you comply with all such regulatory guidelines.
As encryption becomes mandatory for almost all businesses, there are plethora of such software available on the market. However, companies need to research carefully, and analyze if a particular software suits their specific industry and business requirements before subscribing to the service. With a comprehensive security and risk assessment, you will be able to determine the security threat perception, which in turn helps you determine the right Email encryption software for your organization.
The best email encryption software comes with a host of features that makes installation easy, user-friendly, and compatible with your existing hardware and software, supports all platforms and devices, is scalable, and is comp0liant with all regulations.