How to Use WeChat Marketing for Business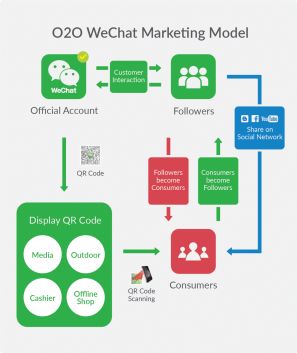 Wondering how to promote your brand in front of over a billion people on WeChat? Is your business aim to drive direct customer interaction with Chinese speaking customers or raise brand awareness? Whether planning to reach out to Chinese tourists or enter the China market, the effective way is to adopt the multi-purpose app known as WeChat.
A powerful marketing tool, WeChat provides a platform for connecting with customers, building a database and collecting feedback. In this post, you will get to know how WeChat marketing helps to promote your brand.
QR Codes
WeChat creates a QR code automatically for every official account and the app also has an in-built QR code scanner. To match your branding effectively, the codes can also be customized. You can post the codes in all your marketing channels like social media networks (excluding Weibo as you may get penalized), brochures and product packaging. QR codes are the perfect way to lure customers as they allow you to offer free Wi-Fi access, promotions, and discounts. With a simple scan, you can able to increase sales as well as followers of your official account.
WeChat Content
 Creating rich content on WeChat is very important and one of the essential parameters for successfully maintaining a WeChat official account. The content must be useful, informative and of consistent quality for maintaining your customer base and also able to attract new followers. With so much online content, people get bored easily search for fresh content, so you need to create educational and interesting content to stand out and increase traffic. The current trend shows that with videos and GIFs one can support storytelling especially if you are associated with industries like food and beverage, fashion and beauty.
WeChat Search
Creating new content regularly is incredibly difficult and if you are planning to outsource then it will become costly. The closed system of WeChat makes you frustrated as well as you can create the best content in the world but there can be little viewers or none. So, WeChat has come up with a search feature that brands will try to make use of for improving the velocity of their content. This search feature like other search engine helps in keyword optimization that helps in driving traffic to relevant articles.  
Location-Based Marketing
WeChat can able to detect your user location thereby enabling brands to target potential customers in the nearby location. With this function there are other features like drift bottle, look around and shake. It covers more than 300 cities. Tapping your WeChat follower's location details can be beneficial for WeChat marketing. For instance, a taxi-hailing app in China uses WeChat for accessing the location of the passenger while the passenger can able to track the driver's distance from the pickup address.
KOL Promotions
WeChat KOLs (Key Opinion Leaders) are popular accounts that have a huge number of subscribers. Brands can search KOLs through marketing agencies or on WeChat. Usually, the cooperation model requires you to preparing or confirming the content with KOLs who will then be published on WeChat accounts for promoting your brand. These posts are generally paid by brands but the rates will vary depending on their average page views or number of followers.
WeChat Wow
It is a new feature added this year. When reading articles posted by subscription account holders, if a user clicks on the like button, the article will be displayed to all the contacts of the user under the Wow tab under WeChat's Top Stories section. Eventually, this increases the value of likes in terms of content as it provides the content other opportunities to spread organically.
HTML5 Campaigns
For WeChat marketing, these campaigns are the best for encouraging customer engagement. Brands can launch campaigns with various creative features like quizzes, games, voting and more. For encouraging participation and motivating your audience, it will be good to provide incentives like fits and discounts during the campaign. But please keep in mind that since WeChat is a closed platform, so for campaign promotion you to encourage sharing, working with KOLs or investing in WeChat advertising for taking advantage of this campaign.